Document Shredding Service - Confidential & Secure
We can save you TIME and Money! Call Us Today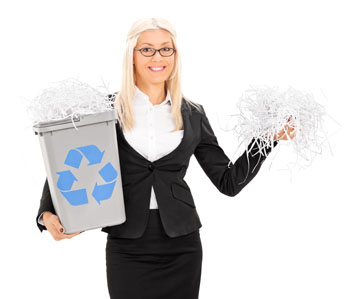 About Our Shredding Service
Secure & Confidential
Free Pickups for 128lbs or more
No Min or Max requirements
Monthly services available
Available Monday -Friday
Is the Shredding Confidential?
Yes, absolutely. All shredding is done in a secure video monitored area accessible only by authorized staff.
Can I Watch My Documents Be Shredded
Yes, absolutely. Contact us to schedule an appointment.
Do you offer Pickup?
Yes, we offer pickup, for 128lbs or more. Contact to schedule a pickup. Available Monday - Friday 8 am – 2:30 pm.
How Much Does It Cost?
Shredding is weighed and priced per pound at a starting rate of 65 cents.
Do you offer monthly service contracts?
Yes, absolutely. We can provide secure shredding bins for your location and schedule regular picks ups to suit your individual needs. Contact us for more info.
Is there A Minimum or Maximum Amount?
No. We accommodate all jobs as small as shoebox as large as a c-train.
How do i prepare my documents for shredding?
No preparation is necessary, we will sort and separate if needed. Our industrial shredders are capable of shredding staple paperclips and even rubber bands.
What are your hours?
We are available Monday – Friday 8:00 am - 2:30 pm. Looking for something outside our normal hours contact us to make special arrangements.
Can Shredding help prevent Indentity theft?
Identity theft is a growing concern in our area! Something as simple as a receipt or an old file can make it possible for your patient's or customer's identity to be stolen.
It's a big enough problem that the State of California has made it the law that you must destroy any information with a signature, drivers license or social security number, or any information that identifies, relates to, describes, or is capable of being associated with a particular individual.
---

Call today!

559-784-1399 ext. 1308